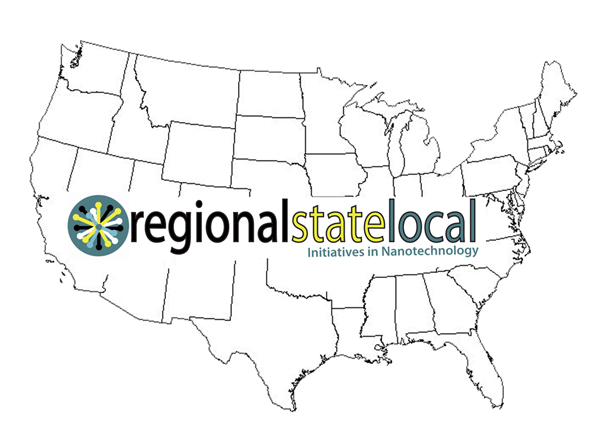 Click here to see the full agenda.
Click here to see the slides from the speakers and panelists at RSL 2012, as well as the posters from the poster session. 
Click here to see a list of the RSL 2012 attendees
____________________________________________________________________________________________________
Event: A workshop sponsored by the National Nanotechnology Initiative (NNI) and local partners to assess the current landscape of regional, state, and local (RSL) nanotechnology initiatives.
Date and Location: The workshop was held at the Embassy Suites hotel in downtown Portland, Oregon, on May 1-2, 2012, with optional site visits to nanotechnology facilities on April 30th, 2012.
Themes: Principal themes addressed in the workshop will include: a) the current landscape of U.S. RSL nanotechnology initiatives and their health; b) current Federal resources available for RSLs; c) RSL best practices, business models, and opportunities for partnering; and d) the role of nanotechnology RSLs in future U.S. economic growth and job creation.
Participants: Attendees will include leaders of regional, state, and local organizations and the Federal government; economic development groups; investors and entrepreneurs; technology leaders; and scientists and engineers from industry, business, government, academia, and the general public.

Organizers: This year's RSL Workshop is being organized by the National Nanotechnology Coordination Office (NNCO) of the NNI and the Oregon Nanoscience and Microtechnologies Institute (ONAMI). Click here to see the Steering Committee members.
Sponsored by: The National Nanotechnology Initiative and ONAMI. Additional partners include FEI Company, City of Hillsboro, City of Gresham, Washington Economic Development Commission, Portland Development Commission, Business Oregon, Oregon State University and the Center for Sustainable Materials Chemistry. Click here to see the Steering Committee members.
Contact Info: Please email rsl12@nnco.nano.gov for further information.
RSL 2012 Partners: