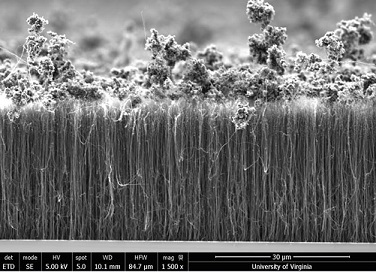 Caption:
A scanning electron microscope image of a forest of carbon nanotubes (CNTs) grown at the University of Virginia Nanoscale Energy Transport Laboratory.
 
LeighAnn Larkin, Quang Pham, Carina Cerri, and Christopher Saltonstall
Advisor: Dean Pamela Norris
University of Virginia
Charlottesville, VA

Laboratory website: https://pamelanorris.wordpress.com/research/
 
Technique: The image was taken with a FEI Quanta 650 Scanning Electron Microscope 
 
Description:
Thermal interface materials (TIMs) are materials placed in between two materials in order to fill any gaps or imperfections at the interface, taking the place of any air. This helps to increase the passage of heat or electricity between the layers. Carbon nanotubes (CNTs) easily conform to fill empty space and easily conduct heat, making them ideal for TIMs in things like transistors and resistors. The properties of CNTs can change dramatically with changes in their growth process. Standard growth techniques for high quality CNTs do not currently exist. At UVA's Nanoscale Energy Transport Lab, we are studying the effects of growth temperature, catalyst particle, carbon source, and gas flow rate on the quality and properties of CNTs. This image was part of the growth temperature study. This CNT forest was grown at 760ᵒC. Each individual CNT is around 50µm in length and 100nm in diameter. 
 
Funding Source: This work was funded by the National Science Foundation. In addition, Larkin would like to thank the National Science Foundation Graduate Research Fellowship.