(October 5, 2016) National Nanotechnology Day, a series of events and activities led by the U.S. nanotechnology community, is an annual opportunity to inform the public and stakeholders about nanotechnology and its benefits; the accomplishments of industry, academia, and government in nanotechnology R&D, commercialization, and education; and the future opportunities and promise for nanotechnology. The purpose of this day is to celebrate the hard work of scientists, engineers, and entrepreneurs who have helped nanotechnology move from a laboratory curiosity to an enabling technology that is rapidly becoming pervasive in consumer products, medicine, transportation, energy, and infrastructure.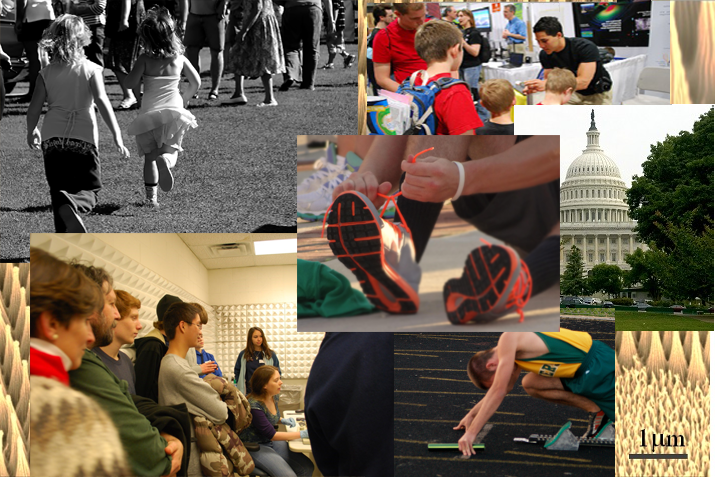 The inaugural event takes place on October 9th, 2016. This date, 10/9, pays homage to the nanometer scale, 10-9 meters.
Activities will take place across the country on and around October 9th and are being hosted by a number of professional societies, schools, and other organizations.
In addition, the National Nanotechnology Coordination Office (NNCO) is promoting two activities:
100 Billion Nanometer Dash, a challenge to run a #100BillionNanometers (equal to 100 meters) and upload the video   
Nano Nuggets, short videos featuring experts, visionaries, and artists sharing their thoughts on nanotechnology
Leading scientists, engineers, and other experts in the nanotechnology community have contributed close to 60 Nano Nuggets! The NNCO will release these over the course of the month. The first Nano Nugget videos to be released this week leading up to National Nanotechnology Day are:
Tuesday, 10/4 – Nano Nugget featuring Tom Kalil, Deputy Director for Technology & Innovation, White House Office of Science and Technology Policy (OSTP)
Wednesday, 10/5 – Detecting Cancerous Tumors Before They're Visible to the Human Eye, featuring Thomas Kalil, OSTP; Michelle Bradbury, Sloan Kettering Institute for Cancer Research; and Piotr Grodzinski, National Cancer Institute
Thursday, 10/6 – Materials that are Stronger than Steel and a Fraction of the Weight, featuring Thomas Kalil, OSTP; Horacio Espinosa, Northwestern University; and Michael Meador, NNCO
Friday, 10/7 – Storing the Library of Congress in a Device the Size of a Sugar Cube, featuring Thomas Kalil, OSTP; Mark Kryder, Carnegie Mellon University; and George Bachand, Sandia National Laboratories
Saturday, 10/8 – Nano Nugget featuring Paula Hammond, Massachusetts Institute of Technology
Sunday, 10/9 – Nano Nugget featuring students from Madison Park Middle School in Phoenix, Arizona
Join the celebration by uploading your #100BillionNanometerDash, tweeting about #NationalNanoDay, learning about nanotechnology, and watching the Nano Nuggets! To request adding your events, activities, videos, or photos to the National Nanotechnology Day page, email info@nnco.nano.gov.