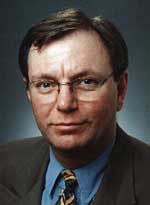 The National Nanotechnology Coordination Office (NNCO) is pleased to announce the appointment of Dr. Michael A. Meador as its new Director. Dr. Meador joins NNCO on a detail from NASA, where he has been managing the Nanotechnology Project in the Game Changing Technology Program, a project involving five NASA centers, industry, and universities working to mature nanotechnologies with high potential for impact on NASA missions and to demonstrate them in selected applications.
"Dr. Meador's background and experience identifying nanotechnology applications, combined with his long involvement with the National Nanotechnology Initiative (NNI), will help us accelerate the NNI's activities aimed at facilitating the commercialization of nanotechnology research sponsored by the Federal Government over the past decade," said Dr. Lloyd Whitman, who has been serving as Interim NNCO Director and is now the Assistant Director for Nanotechnology at the Office of Science and Technology Policy.
Dr. Meador, chair of NASA's Nanotechnology Roadmap Team, was instrumental in developing the NASA-wide Nanotechnology Project, and has been responsible for project planning and advocacy, overseeing technical progress, developing external partnerships to advance and transfer technology, coordinating with other nanotechnology related activities within NASA, and interacting with program and senior agency management. He has also played a key role in representing NASA in the NNI's interagency activities, including co-chairing its Nanomanufacturing, Industry Liaison, and Innovation Working Group.
During his long career at NASA, Dr. Meador has held a series of positions with increasing responsibility, including over twenty years as Chief of the Polymers Branch of the Materials Division at NASA Glenn Research Center, where he expanded the research portfolio of the branch from research in high-temperature stable polymers and composites for aircraft engines to include work in battery electrolytes, fuel cell membranes, and nonlinear optical and sensor materials.  He also initiated the first nanotechnology program at NASA Glenn. 
Dr. Meador has been recognized as the NASA Glenn Small Disadvantaged Business Program Technical Advocate of the Year and NASA Small Business Program Technical Personnel of the Year.  He has also received the NASA Equal Opportunity Employment Medal for his work to increase the involvement of faculty and students from minority serving institutions in NASA materials research, and last month was awarded the NASA Exceptional Service Medal for leading NASA's Nanotechnology R&D activities and representing the agency as a proactive member of the NNI.
Contact:
Marlowe Newman, Communications Director
703-292-7128
mnewman@nnco.nano.gov