Description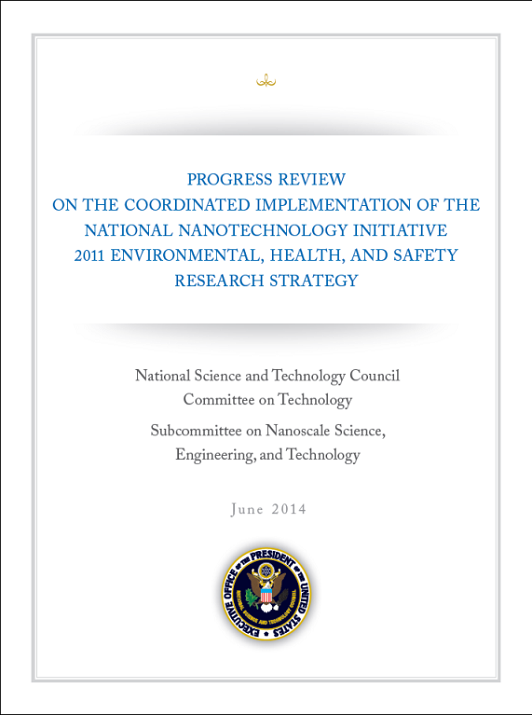 Executive Summary
This document provides an overview of progress on the implementation and coordination of the 2011 NNI Environmental, Health, and Safety (EHS) Research Strategy that was developed by the Nanoscale Science, Engineering, and Technology Subcommittee's Nanotechnology Environmental and Health Implications (NEHI) Working Group. Consistent with the adaptive management process described in this strategy, the NEHI Working Group has made significant progress through the use of various evaluation tools to understand the current status of nanotechnology-related EHS (nanoEHS) research and the Federal nanoEHS research investment.
Most notably, the participating agencies reported to the NEHI Working Group examples of ongoing, completed, and anticipated EHS research (from FY 2009 through FY 2012) relevant to implementation of the 2011 NNI EHS Research Strategy.
These examples, described in this document, demonstrate the breadth of activities in all six core research areas of the 2011 NNI EHS Research Strategy: Nanomaterial Measurement Infrastructure, Human Exposure Assessment, Human Health, Environment, Risk Assessment and Risk Management Methods, and Informatics and Modeling. Overall, coordination and implementation of the 2011 NNI EHS Strategy across the NEHI agencies has enabled:
Development of comprehensive measurement tools that consider the full life cycles of engineered nanomaterials (ENMs) in various media.

Collection of exposure assessment data and resources to inform workplace exposure control strategies for key classes of ENMs.

Enhanced understanding of the modes of interaction between ENMs and physiological systems relevant to human biology.

Improved assessment of transport and transformations of ENMs in various environmental media, biological systems, and over full life cycles.

Development of principles for establishing robust risk assessment and risk management practices for ENMs and nanotechnology-enabled products that incorporate ENMs, as well as approaches for identifying, characterizing, and communicating risks to all stakeholders.

Coordination of efforts to enhance data quality, modeling, and simulation capabilities for nanotechnology, towards building a collaborative nanoinformatics infrastructure.
Extensive collaboration and coordination among the NEHI agencies as well as with international organizations is evident by the numerous research examples and by other activities such as co-sponsored workshops and interagency agreements described in this review document. These examples and activities are a small subset of the extensive research efforts at the NEHI agencies. This document addresses the NEHI Working Group's broader efforts in coordination, implementation, and social outreach in nanoEHS, as identified in the 2011 NNI EHS Research Strategy. As the NNI agencies sustain a robust budget for EHS research, Federal agencies will continue to invest in tools and share information essential to assess and manage potential risks of current and anticipated ENMs and nanotechnology-enabled products throughout their life cycles. The agencies will also continue to engage with the stakeholder community to establish a broad EHS knowledge base in support of regulatory decision making and responsible development of nanotechnology.