(June 23, 2016) The National Nanotechnology Coordination Office (NNCO) is pleased to announce the winners of the latest round of EnvisioNano, a nanotechnology image contest for students. Ben Davis and Ryan Hines, members of the Maschmann Lab at the University of Missouri, won for their image Graphene Shows its Stripes. They work on innovative methods to machine nanomaterials like graphene in order to capitalize on the transformative properties of these materials. Congratulations to Ben and Ryan!
Images posted online for public voting received more than 2,000 votes. The top three images advanced to the semifinalist round. The final winner was chosen by representatives of the National Nanotechnology Initiative (NNI) member agencies. The winning image will be displayed on Nano.gov for a month. For more information on the EnvisioNano contest rules and judging, visit the EnvisioNano page.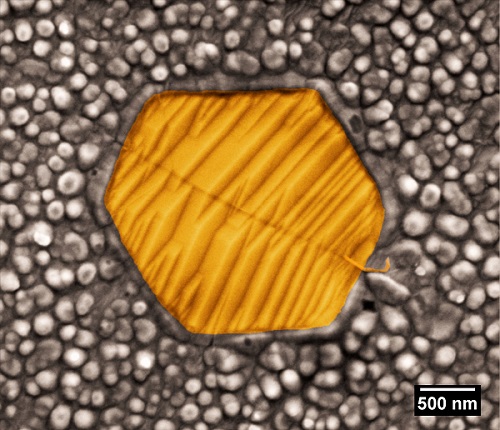 Graphene Shows its Stripes: "This image shows a grain of graphene which was synthesized using chemical vapor deposition on a copper foil substrate. The hexagonal shape of the graphene grain is indicative of the graphene hexagonal crystal lattice structure, while the striped pattern arises due to adhesion and wrinkling with the underlying substrate. Graphene is a 2-D material with mechanical, electrical, and thermal properties that exceed conventional engineering materials."
Image taken by: Ben Davis and Ryan Hines
Advisor: Matt Maschmann, Maschmann Lab at the University of Missouri
 
About the Contest: Federal agencies funding research and development activities in nanotechnology under the auspices of the NNI, with support from the NNCO, are working to highlight the accomplishments of and build community around the NNI, and to educate the general public about nanotechnology. One such effort is EnvisioNano, a contest for students who submit striking nanoscale images with thoughtful, concise descriptions of the science.
                                                                   ###
Media Contact:
Marlowe Newman, NNCO Communications Director
mnewman@nnco.nano.gov