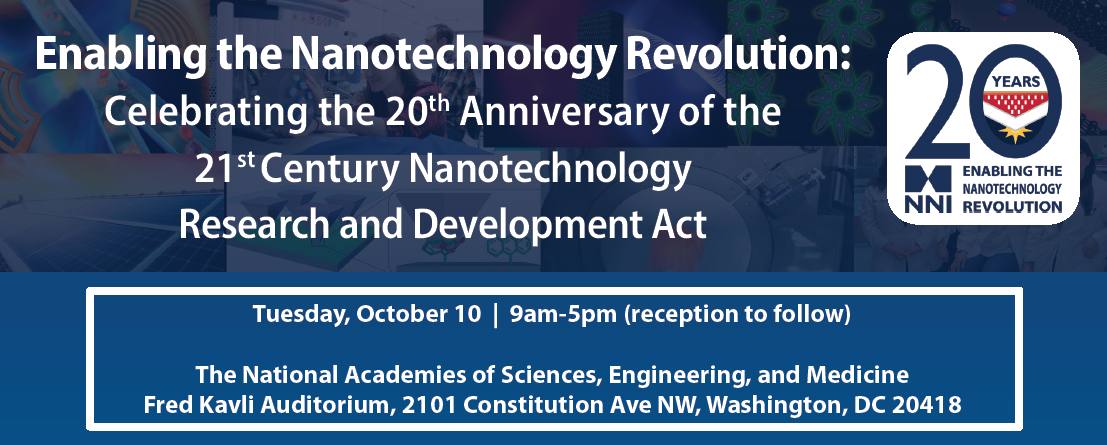 Scientists and engineers across many fields and disciplines are united by their work at the nanoscale. Their diverse efforts have helped produce everything from faster microchips to powerful mRNA vaccines. The transformative impact of this work has been spurred by the coordination and focus on U.S. nanotechnology established by the 21st Century Nanotechnology Research and Development Act in 2003. Celebrating such a broad impact and envisioning the future can be quite challenging, but this event will bring together voices from across the emerging technology landscape. There will be experts who can speak on the importance of nanotechnology in quantum engineering, optics, EHS, plastics, DEIA, microelectronics, medicine, education, manufacturing, and more. We can't predict what will emerge from this lively discussion between researchers, policymakers, members of industry, educators, and the public, but the conversation can only benefit from including more diverse perspectives - especially yours.
The website will be updated as more speakers confirm. Directions to the National Academies can be found here.
REGISTRATION
KEYNOTES AND PANELISTS
 Keynotes
Keynote Panel: The Future of Nanotechnology
Policy Perspectives
Kei Koizumi
White House Office of Science and Technology Policy

Neal Lane
Rice University, 
Former Science Advisor to
President Clinton

Mihail C. Roco
National Science
Foundation

 

Ron Wyden
Senior United States Senator from Oregon
Foundational Research Panel
Commercialization Panel
 Infrastructure Panel
​Workforce Development Panel
 ​Responsible Development Panel
Doyle Edwards
Brewer Science

Reginald Rogers
 University of Missouri, Columbia

Jameson Wetmore
Arizona State University

Treye Thomas
Office of Hazard Identification and Reduction, U.S. Consumer Product Safety Commission
Moderator
AGENDA
9:00-9:05   Welcome and Introduction
9:05-9:30   Opening Remarks on the NNI
9:30-10:15  Morning Keynote
10:15-10:30  Coffee Break
10:30-11:15  Panel: Responsible Development
11:15-12:00  Panel: Foundational Research
12:00-1:00  Lunch and Networking
1:00-1:45  Keynote Panel: The Future of Nanotechnology
1:45-2:30  Panel: Workforce Development
2:30-2:45  Break
2:45-3:30  Panel: Infrastructure
3:30-4:15  Panel: Commercialization
4:15-5:00  Closing Keynote
Reception to follow
While we encourage participation in-person, there will be a livestream for people who are unable to attend.